Family History Publications
CONVICT BEGINNINGS: The Jones Family Story
By Margaret Szalay, granddaughter of Rachel, the daughter of Benjamin & Marrion Jones Rachel Jones, married into the Weymouth family in 1909.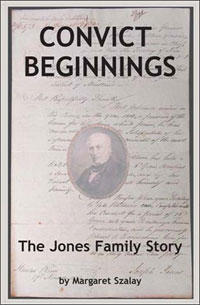 A convict's story in the colony of New South Wales.
In Hardcover and 250 pages, this book is a collection of the available research and stories of our convict ancestors, Joseph Jones, per Hadlow (1) 1818 and his wife, Mary Ahern, per Palambam 1831, from Cork.
From Joseph's conviction at the Old Bailey in London and his transportation to Port Jackson (Sydney, Australia), the book tells his story - his convict assignments, his move to the Hunter Valley where he chose Mary from a marriage parade, their life and times, and their return with their family to Sydney – with the known stories of their descendants.
The book includes detailed Family Trees, surname-indexed, photographs and images of relevant documents, such as Joseph's Petitions, Tickets of Leave and Conditional Pardon – over 200 images.
This book is a great legacy for descendants, their children and grandchildren – and a valuable starting point for future researchers in the family, to build on current knowledge and hopefully track down more of those missing descendants, in the years to come.
Over the generations, the Jones descendants married into these surnames: PIT(T)HOUSE, GAFFEY, BAILEY, HAMPSON, MERRYMENT, CALLAWAY, SWANN, WEYMOUTH, LUKE, TRINDER, FORMSTON, BARRY, GRIFFITH, DONOVAN, GOODYER, WALLIS, FRYER, MOORE, McPHAIL, SHORT, SPARKS, DUNKERLEY, WYATT, CHAMBERLAIN, BUTTEL, JEFFRIESS, BRENNEKE, LESLIE, DALE, MULHOLLAND, BISHTON . And more into later generations.
Published in Hardcover in 2004
250 pages of stories, family trees and images, fully indexed with bibliography and appendices of additional information
Enquiries via the Contacts link above
Cost $45.00 each + postage
Click on the Research Interests link for information on other family lines which are part of Margaret's personal research interests.