Family History Publications
IN SEARCH OF ANCESTRY: Harris & Holt, Glover & Barry; In England, Wales & Ireland
by Margaret Szalay
(the ancestry of the Harris family in 'Tasmania Bound' 1 & 2)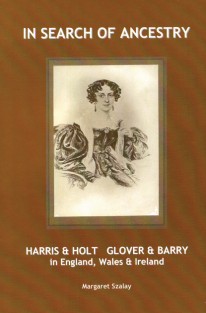 Researching the ancestry and descendants of Robert Harris of Croydon, Surrey (c.1737-1807) John Holt of Lincolnshire & Tottenham (c.1717-1795) William Glover of Reigate, Surrey (1697-…) Lords Barry of Santry, & the Barry/de Barry families in Wales & Ireland
This family history attempts to piece together the relationship between the four families: Harris, Holt, Glover and Barry. These families merged with the marriage in 1812 of the author's great-great-great grandparents, Dr Charles Harris and Sarah Rose Holt (pictured on the cover). Samuel and Robert Harris, the sons of Charles & Sarah, immigrated to South Australia in 1839, settling with their families, respectively, in Sydney and Tasmania. Another Harris descendant also came to Australia in the 1860's, settling in Goulburn, NSW.
Sarah Rose Holt links the Harris family to the Holt, Glover and possibly the Barry families. In 1759, John Holt (c1717-1795) married Hannah Elizabeth Glover, whose father, William Glover, was identified in Burke's Landed Gentry, as maternally descended from the Lords Barry of Santry in Dublin, Ireland. John and Hannah Holt were the grandparents of Sarah Rose Holt.
This book explores the family links in an attempt to verify Burke's claim, and to provide the known ancestry of all of the families - including the stories of their descendants and other families related by marriage, uncovering some interesting connections along the way.
A research collaboration by Margaret Szalay, Julie Brooks and Sean McPhail (all Harris/Holt/Glover descendants) - written & published by Margaret Szalay in 2010
Paperback of 190 pages of stories, photos & family trees
$45.00 each + postage
Contact Us via the Contacts link above
Click on the Research Interests link for information on other family lines which are part of Margaret's personal research interests.